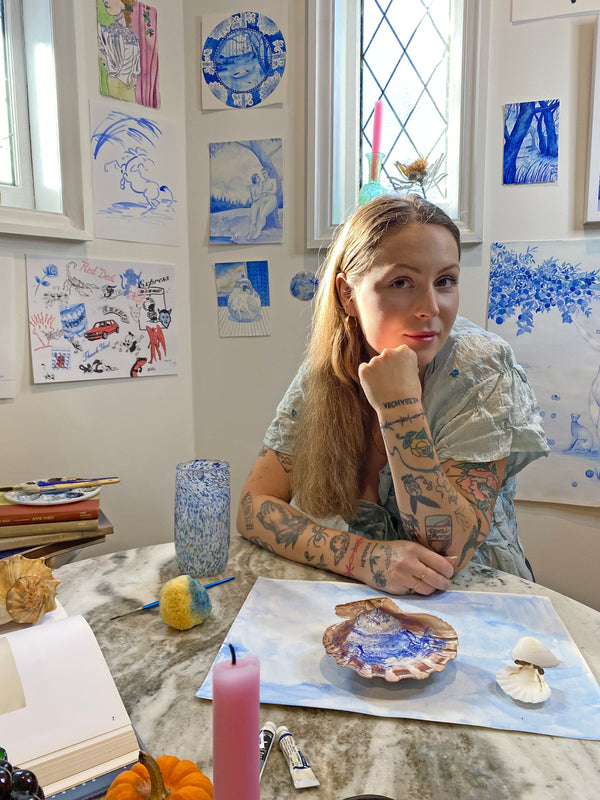 Alyssa Goodman X Shrimps Resort '22
Meet Canadian artist, Alyssa Goodman. She creates small scale watercolour paintings, exploring themes of love and human relationships. When Hannah's son was born, her friend commissioned Alyssa to create a personalised shell illustration (see below). This then lead us to discover the rest of her work and we felt her landscape "Temple" illustrates the world within our Resort '22 collection.
Read our Q&A with her below and discover more of her work here
Shrimps: Tell us about yourself and your background.
Alyssa: I grew up in Toronto, Canada. I dropped out of art school to travel, which left the most lasting impression on me. The power of standing in front of a new place, a view, a landscape was the feeling I wanted to work with for the rest of my life. 
Shrimps: How did you first start making art? Was art part of your childhood?
Alyssa: I can't remember a time I didn't draw, but as a kid, I sailed a lot, and that's when I started spending time on art. On long trips with no TV, I was surrounded by beaches, rocky islands, and willow trees. I played with crayons and coloured pencils, whatever fit in a small bag and could be used outdoors. These images from my summers created a lasting impression, making appearances in almost all of my paintings since then.
Shrimps: What does your work aim to say?
Alyssa: That it's okay to daydream. I can't tell the viewer what to take away, but I hope the work brings them comfort. 
Shrimps: Are there specific subjects or themes you return to regularly in your art? If so, what are they and do you know why?
Alyssa: I paint made-up places, sisters, friends, lovers. Landscapes from memories or dreams... I think it's important especially nowadays to take time to travel into a realm of fantasy and escapism. 
Shrimps: Is there an artist who particularly influenced you?
Alyssa: Right now I'm looking at a lot of work by Arthur Parton, Aviya Wyse,  Azadeh Elmizadah and Claire Milbrath but the artist who left the largest impact on me was Agnes Martin. Her work seems so pure, so focused on the importance of emotion and inner self rather than the work as a piece for consumption. 
Shrimps: What is your favourite part of your creative process?
Alyssa: I usually take a morning walk through my neighbourhood and find cute trees to put into my paintings.
Shrimps: Where / What inspires you? 
Alyssa: The feeling you get in nature, you know those god-clouds with sunbeams that make you remember everything good in life.
Shrimps: Why watercolour?
Alyssa: I always felt like an outsider for not being super conceptual or modern in my art style. Watercolour feels like a bit of a rebellion, it's worth less money, doesn't stand out in a white wall gallery, it's for the individual viewer.  The intimate and personal aspect of creating watercolours for one viewer at a time, not a room, just the piece and the individual is what I like. 
Shrimps: When is your favourite time of day to create?
Alyssa: I like to have a full day set aside and really dig into it. I'll start in the morning, figuring things out with my coffee and by afternoon I'm into it with the paint. The sun really starts shining through the windows by 3 pm and I think that's the moment it all comes together. 
Shrimps: Favourite book or film?
Alyssa:  East of Eden by John Steinbeck 
Visit Alyssa's shop here and check out her Instagram here