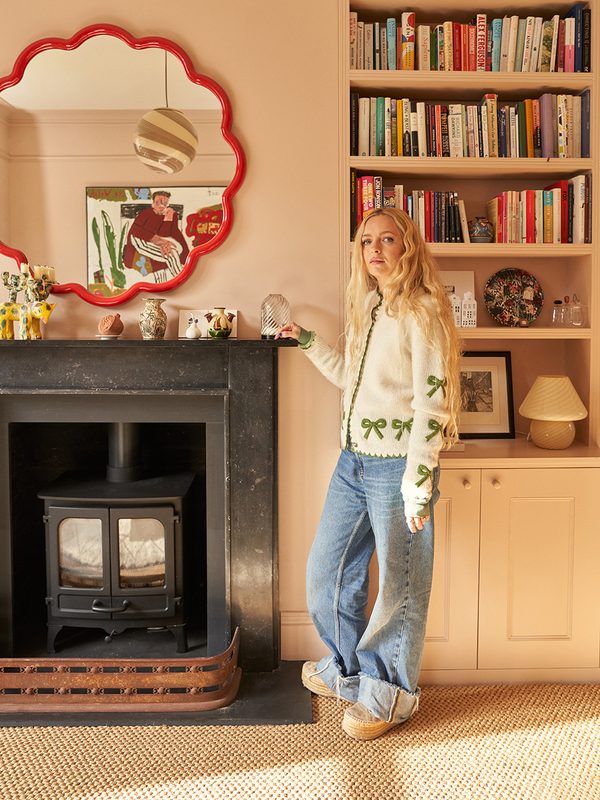 Shrimps x Vinterior
Our Creative Director Hannah caught up with Vinterior, revealing her most coveted Vinterior pieces as well as discussing all things interiors, from her inspiration and favourite finds to the design process.
How would you describe your interior design style and how has this evolved over the years? 
I love it when interiors show one's individual character and interests, from the colours you use to the little knick knacks you collect. For me, I love creating a calm space and then bringing in more eclectic elements that make it unique. So for paint colours I tend to choose calming pastel colours, and then I bring in brighter colour and print through the textiles, furniture, art, ceramics etc. 
Vintage is definitely a huge part of my interior design style. I love the one of a kind nature of vintage pieces. I love the idea that a piece has history, a past life before it came to you. The sustainability aspect of it also plays a huge part in my love for it too. 
I think over the years I have gotten more into vintage. I have become better at searching for what I want, I know how to trawl the sites (doing up a house in lockdown definitely gave me a lot of practise with this)! 

Tell us about some of your favourite vintage finds and the stories behind them.
So many of my favourite pieces are vintage, it is hard to choose. 
My Le Klint lights which I bought from Vinterior are really special. I saw them and immediately purchased them, no second thoughts and no hesitation. The seller then messaged me saying that he lived round the corner and he could drop them over the same day. It was such a nice surprise!
Another favourite find was my Murano Glass swirl lantern. It is brown and cream, a colour combination that I have always loved and has the most beautiful glow-y light which warms you up on gloomy days. When this light arrived from Italy it had a hand written note from the seller with it. Written on beautiful parchment paper, pressed with real flowers, the seller told me the story of the light called 'Vertigo'. Its life started in a convent in Bergamo and was then gifted to a florist who had been providing the ancient covent with her flowers and plants. To thank the florist, the nuns donated her this precious Murano lamp. 
It is such a sweet story and makes me love the piece even more knowing its wonderful history. 

Where do you go when you need inspiration?
I travel when I can, I go to exhibitions, I read books, I go to vintage markets and antique fairs, I look through old postcards, print archives and go vintage shopping. I am very inspired by print and colour, so the more I can see of these the better! 
What similarities or differences do you see in the design process of your home compared to your collections? 
I definitely approach it differently. At Shrimps I design 4-6 collections a year, this is a lot and everything is constantly changing and evolving. With interiors it is different, there is one home, one collection you could call it. Of course you can add and take away from it, but with this in mind it is a much slower process than with fashion, a collection that is never actually finished and always adaptable. However in terms of colour and print, the design process is similar, I just do a lot more of it in fashion which is fun. 
What role does vintage play in your home? 
To me it makes my home, it brings in a sense of history. A lot of my pieces are also hand me down from my parents which has such a nice meaning to it. I love owning something unique, and vintage allows this to happen.
What advice would you give when buying vintage?
It often helps to know what you are looking for but if there isn't something specific searching a general term of a style or design period you like can really help. Eg. searching for Murano, Memphis or Bauhaus etc. Learning which sellers you like best often helps too so you know where to go back to look again. 
Get Inspired by Hannah's wishlist of her favourite pieces inspired by her life and her collections. Think post-modern, murano glassware and Scandinavian inspired finds.
Discover and shop here