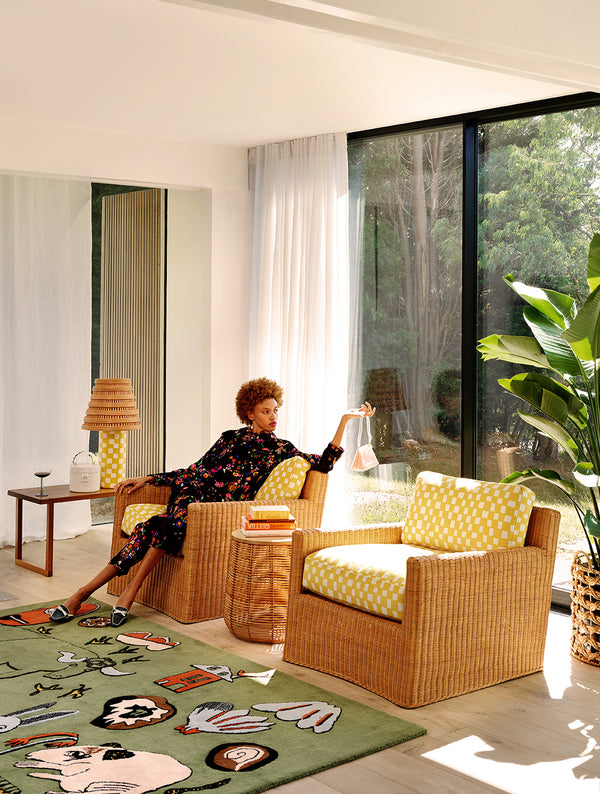 Shrimps for Habitat 2020
Our second collection of homewares in collaboration with Habitat is now available.
Drawing inspiration from 1970s Palm Springs and old Hollywood, handwoven rattan is paired with textiles and ceramics in a colour palette centred on joyful sunshine yellow and calming sage green, with accents of sky blue and blush pink.
Wilder Rug, Wilder Cushion
Gabriel Dress
The Wilder Rug and cushion set a series of characterful new Shrimps illustrations on a chic sage green background. Textured threads are woven into the rug's illustrations to create a luxurious, tapestry-like quality.
The original artwork for the rug and cushion is also available as a limited-edition framed print with a watercolour finish.
Dustin Lamp, Redford Cabinet
Lydia Bag, Olga Jacket
The Dustin Lamp's ceramic base is painted by hand, giving the sunshine yellow squares a charming, irregular quality and meaning that no two pieces are the same. The shade, woven from rattan, casts beautiful shadows when lit.
Gene Rug, Gene Cushion
Emma Blouse, Libra Trousers, Dawson Bag
Checkerboard squares also appear on the Gene Rug and Cushion, both made with a wonderfully tactile, shaggy texture. For Hannah the shade of yellow used conjures images of 1970s California, adding a joyful and sunny disposition to any room.
Redford Cabinet
Florence Scarf
Rattan pieces were included in the collection on account of the warm, natural texture they can bring to interior spaces. The Redford cabinet is made by Habitat's artisanal supplier in Vietnam with a small, versatile footprint – perfect in the sitting room as a drinks cabinet or in the hallway for linen.
Marlon Armchair, Gene Rug, Wilder and Gene Cushions, Redford Cabinet, Framed Wilder Print, Dustin Lamp
Thelma Bag, Reeve Jacket, Hank Trouser, Lydia Bag
The whole collection is available to buy now on Habitat's website or in their London flagship store on Tottenham Court Road.
To find the clothing, bags and accessories featured in the shoot, shop Pre-Fall and Autumn/Winter '20 here.