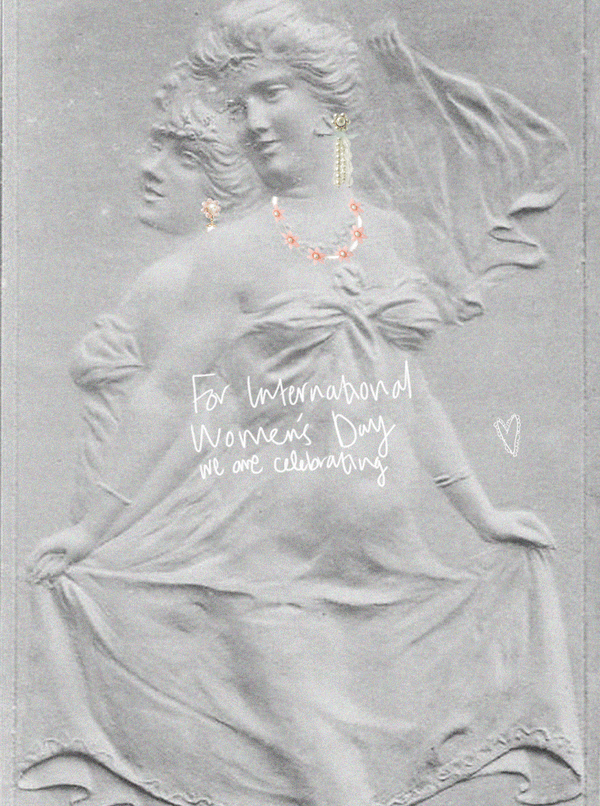 The Women We Love
Happy International Women's Day!
To celebrate International Women's Day we featured stories about "The Women We Love." Throughout the week we introduced you to the women we inspire us with their creativity and entrepreneurship. Read more about them below.
1. Nancy | Lead singer Babeheaven Band
"My name is Nancy and I am the lead singer of Babeheaven, we are a five piece band who play soft slow and soothing music. Jamie and I have been writing together for the past 6 years and we released our debut album last year which was very exciting (despite releasing it through lockdown.) We look forward to once again playing to real human beings but for now we just live life online, helping to calm the nerves of the lockdown world one song at a time. <3"
2. Georgia Rose Fairman | Artist
"I'm Georgia, for years I've produced realistic cake sculptures. More recently I have moved over to the less ephemeral medium of clay, making ceramic candlestick holders, miniature penises, seafood etc. I generally enjoy playing with scale and materials that are easily accessible to me, taking inspiration from the baroque, the surreal and the imperfections of our bodies."
3. Iona and Romy | Founders of Sage Flowers 
"We are Iona Mathieson and Romy St Clair, founders of SAGE flowers, a flower shop and floral studio in Peckham South London. We are advocates for young female entrepreneurship and diversifying and decolonising the floristry industry."
4. Faye Wei Wei | Artist 
"Faye Wei Wei conceives of the painting process as an intimate choreography between actual and pictorial space. Often revolving around spiritual iconography and classical myth, love rituals and the theatricality of gender, her works sometimes suggest the themes of particular mythic narratives, and at other moments seem to depart into a more ambiguous, interior space of incongruity and uncertainty."
5. Bella Howard | Founder of Astro Angels 
"My name is Bella Howard my day job is a photographer and my side hustle's are
Astro
Angels
and Q.Diff. I started
Astro
Angels
during the first lockdown. I moved to my mums house in Yorkshire with my boyfriend and 4 month old baby boy. One day I started rummaging through all my clothes from when I was a baby and discovered a super fun knitted jumper with my name on it! I have never seen anything like it since and desperately wanted one for my son. I found a lady who could knit one for my son and got lots of compliments on it and everyone asking where i got it!
Astro
Angels was then born
. We make customised coloured, hand knitted name jumpers for all ages! I currently have 5 knitters working with me and have made over 100 jumpers. I am expanding now into tie dye baby grows, pregnant lady candles, retro knitted trouser/jumper and bonnet suits and crystal baby name bracelets."
Follow Astro Angels on Instagram 
6. Freya Bramble-Carter
"My name is Freya, and I'm a ceramicist. Using my hands to create art gave me such an overwhelming sense of empowerment that I suppose is kind of addictive. I just wanted to do it again and again and again. At the moment, I love creating vases, I find them so satisfying to make. I love the shape, and quite often I compare it to the figure of a woman's body. It exudes the same curves which are always beautiful to look at."
We at Shrimps feel strongly about gender equality, the empowerment and safety of women and girls in today's world.  A charity that we believe is making movement for female focused social change is ROSA. Rosa is a grant making charity that funds grassroots women's organisations working to make the UK a fairer, safer place for women and girls.  We want to bring awareness of what incredible work Rosa is doing. We will be making a donation this International Women's Day to support Rosa's active efforts to make the world for women and girls safer.