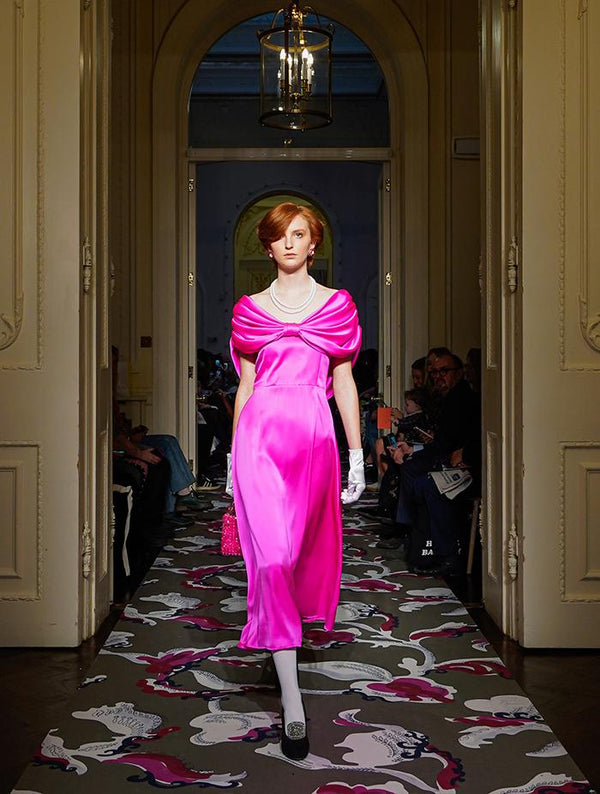 Shrimps AW20 Show
For AW20 Shrimps celebrates the British wardrobe and its ultimate icon, The Queen. Royal style has consistently offered every occasion a sense of ceremony and elegance, from the countryside on horseback to the ballroom at Balmoral, all whilst championing a fearless approach to colour.
A similar love of colour remains at the core of every Shrimps collection. This season vivid fuchsia pink punctuates a palette of royal blue, pastoral green and ceremonial white, whilst illustrated horses and a 'Royal Garden' print reimagine the Queen's hobbies in Shrimps' whimsical signature style. The collection's dresses incorporate refined draped necklines and dramatic leg of mutton sleeves to offer a contemporary take on classic ball gown silhouettes. Scottish tartans, another royal wardrobe essential, appear throughout in traditional wool sourced from Scottish mills and as a faux fur jacquard. Shrimps is also excited to introduce a faux sheepskin in royal blue made from recycled materials.
Intricate embellishments on bags and accessories add a regal touch to looks, including embroidered bun covers, faux fur-trimmed hats and 'sea glass' inspired jewellery; floral motifs reference the blooms of royal gardens. Elsewhere, sustainably sourced woollen balaclavas nod to a more utilitarian side of Her Majesty's wardrobe.
To see more, follow us on Instagram or read the article on British Vogue.
Styling - Tom Guinness
Production - Blonstein
Casting - Holly Cullen
Hair - Sarah Jo Palmer / Bumble and bumble
Makeup - Celia Burton / Glossier
Nails - Loui-Marie Ebands / Peacci
Shoes - Sorel & Dr Martens
Hosiery - Falke
Eyewear - Oakley
Music - Fred Macpherson