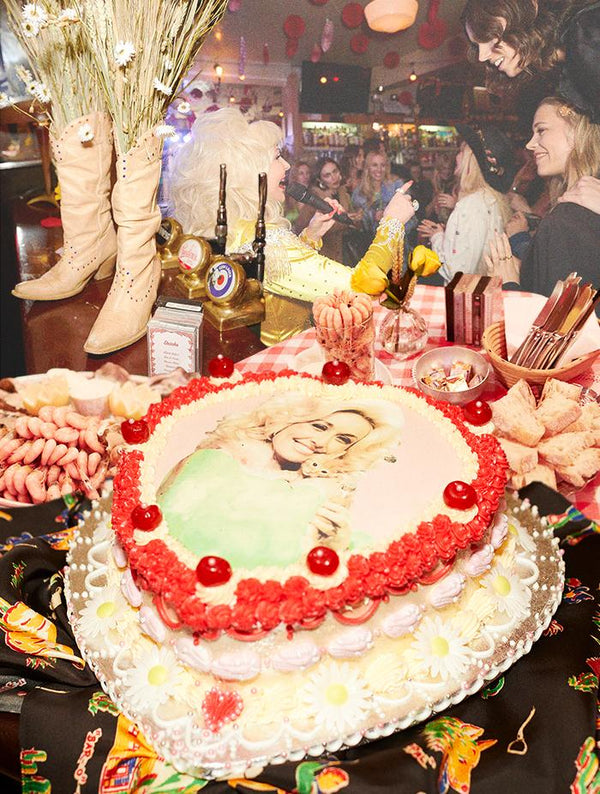 Resort '20 Launch Party
To celebrate the launch of Resort '20 we threw a Shrimps party at our favourite London pub, The Cow.
The Resort '20 Collection draws inspiration from cowboys, country music and rodeo style, so we decorated our venue with gingham tablecloths and cowboy boots filled with flowers. Our party guests enjoyed The Cow's famous seafood including oysters and pints of Shrimps, along with Black Velvet cocktails.
For entertainment, with Dolly Parton as the collection's muse, guests were surprised by Paula Randell, a Dolly impersonator, who performed some of Parton's greatest hits. Dolly also made an appearance on our heart-shaped cakes, alongside cassette tape menus and doily drink mats by Matilda Goad. 
The guest list was filled with friends of the Shrimps brand dressed in their favourite outfits from the Resort and Spring/Summer collections. Look out for our 'Rodeo' print on scarves, dresses and blouses as well as standout pieces in vibrant fuchsia organza or kiwi silk satin. 
Once the party was over, specially designed Shrimps temporary tattoos made the perfect memento for everyone to take home with them.
Shop the collection now and find the perfect look for your very own rodeo party!