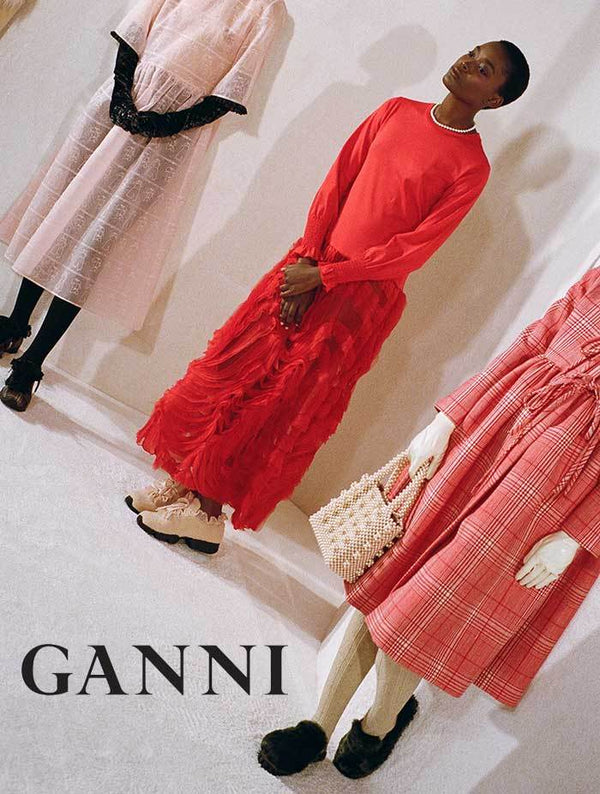 SHRIMPS x GANNI
Copenhagen-based brand GANNI and British brand SHRIMPS collaborate together for the first time on a capsule collection of shoes for AW17, shown within the Shrimps presentation at London Fashion Week (February 2017). Two Ganni shoe styles have been re-worked and imagined by Shrimps designer, Hannah Weiland; a frilled sneaker and a backless loafer, both representative of Ganni's signature effortless, fashion-forward style. 
"I have always loved Scandinavian design and particularly the beautiful, clever aesthetic of Ganni. Ditte creates pieces you want to wear everyday over and over again. I loved the idea of creating shoes combining the quirky Britishness of Shrimps with the beautiful Scandi Ganni aesthetic. They have been amazing to work with and it's been such an exciting project for me as I have been a Ganni fan for a long time!" 
– Hannah Weiland, Founder of SHRIMPS 
"I'm completely in love with Shrimps' quirky and feminine universe. Hannah's original sense of style, and artistic approach towards fashion, is both fun and flattering. It has been a pleasure to work with the Shrimps team, and to get a glimpse of the creative processes behind their unique range of products." 
– Ditte Reffstrup, Creative Director at GANNI 
The capsule of shoes are made up in fabrics from the Shrimps AW17 collection that demonstrate Hannah Weiland's trademark playful experimentation with fabrics, textures and colours. The backless loafers feature in a yellow leopard print and green leopard print faux fur, a fabric and print that she is now well known for. One pair of frilled sneakers are made from a textured faux sheepskin in blush pink, with the other in a Scottish tartan, a fabric that echoes through the Shrimps' AW17 collection.