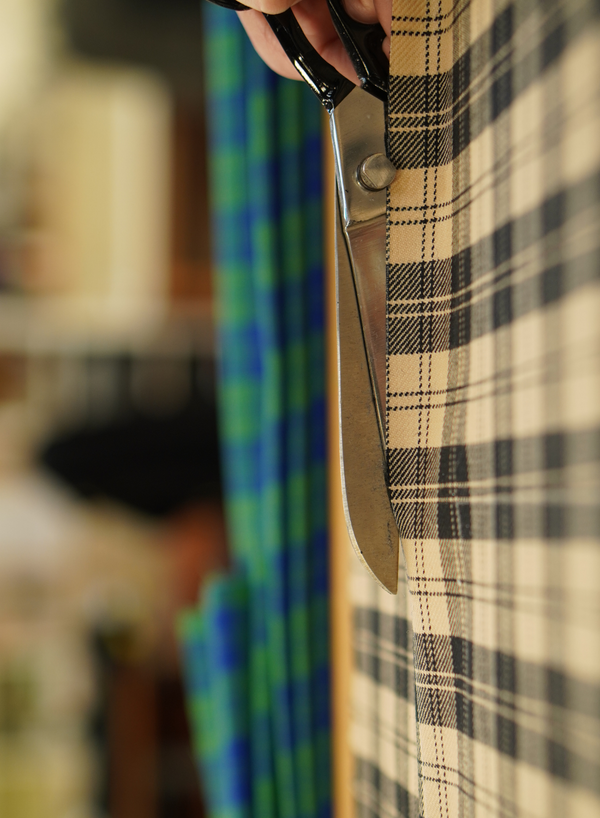 Kinloch Anderson x Shrimps
Scottish Craftsmanship meets London Witticism.
A Kinloch Anderson x Shrimps Collaboration. 
In the ever-evolving world of fashion, unexpected collaborations often give rise to the most 
captivating creations. Hence, we are happy to announce our new collaboration with Kinloch Anderson, which has culminated in the creation of our beautiful Anya Skirt. 
Kinloch Anderson's expertise brings centuries of craftsmanship to the table. Their commitment 
to quality and tradition has made them one of the staples in the world of Highland Dress and Tartan.
This collaborative creation is a 
testament to the beauty that emerges when seemingly disparate worlds collide. Anya gracefully blends the traditional elements Kinloch Anderson is revered for with the 
whimsical, modern charm synonymous of Shrimps. The skirt features intricate kilt pleats, that 
cascade into a flow of vibrant colours, straps, and buckles with the ultimate addition of a pocket on 
the side.
What

 makes us the perfect fit for each other is a shared commitment to the art of crafting 
and devotion to the essence of respective inspirations. Our collaboration serves as a bridge 
between the rich heritage of Scottish tradition and the modern, art-inspired designs of London's 
fashion scene.
The exclusive Anya skirt ensures fashion aficionados are partaking in a truly 
exceptional sartorial experience. The skirt not only represents a fusion of brands but also 
symbolises a melding of cultures, creativity and vision. 
As Kinloch Anderson's head of production explains, "Anya is a complex skirt that entangles different elements."
"
The sewing itself was very intricate with its own fabric specifications and the pressing of the 
pleats had to be done with meticulous perfection. 
Eventually, seeing the garment being 
finalised was very satisfying and we are all proud of the final product and its beautifully defined pleats
. We know that fashion continues to evolve, collaborations like this remind us that 
innovation knows no bounds – and the future is going to be even more captivating and 
unforeseen.

"
See the full video of our Anya Skirt being made HERE.